New Kroger Payroll System Has Led To Wage Theft, Workers Say – Heemang Parmar
[ad_1]

A shift to a new payroll system at the grocery chain Kroger has left workers short on their paychecks and stirred up hundreds of employee complaints, according to a new lawsuit.
A group of workers represented by the United Food and Commercial Workers Local 400 filed a complaint in federal court on Jan. 19 seeking back pay and damages from Kroger. One plaintiff said he missed entire paychecks, while others said they weren't paid for overtime or had unauthorized deductions made.
One worker said her contributions for her spouse's health insurance were deducted twice from every paycheck for nearly two months, "resulting in the loss of hundreds of dollars." The complaint alleges that some workers had to take out high-interest payday loans when their full wages failed to arrive.
"Kroger has been made aware of these issues, but has failed to correct them," the complaint states.
Kroger did not immediately respond to a request for comment on Monday.
"It's been a disaster.""

– Jonathan Williams, spokesperson for UFCW Local 400
The lawsuit involves employees in Virginia and West Virginia who work under the Kroger brand (the company also owns Fred Meyer, Ralphs, Food 4 Less and other grocery chains). They say Kroger has violated both federal and state wage laws by not paying them for all their work. Under Virginia law, victims of wage theft may be owed three times the back pay amount.
A spokesperson for the union said the irregularities began in 2022 when Kroger moved to a payroll system workers know as "MyTime." Since then, a complaint portal set up by the union has received over a thousand responses from workers, he said.
"It's been a disaster," said the spokesperson, Jonathan Williams. "We've had people who go weeks without a paycheck, some people who don't have all the money in their paychecks, and people who are double-charged for things like health insurance, or taxed for [localities where] they don't live. … They've been messing up payroll big time."
According to the lawsuit, a new employee in Charleston, West Virginia, worked 79 hours for the company last August and September, including 26 hours of training, and "never received any pay from Kroger." She no longer works for the grocer.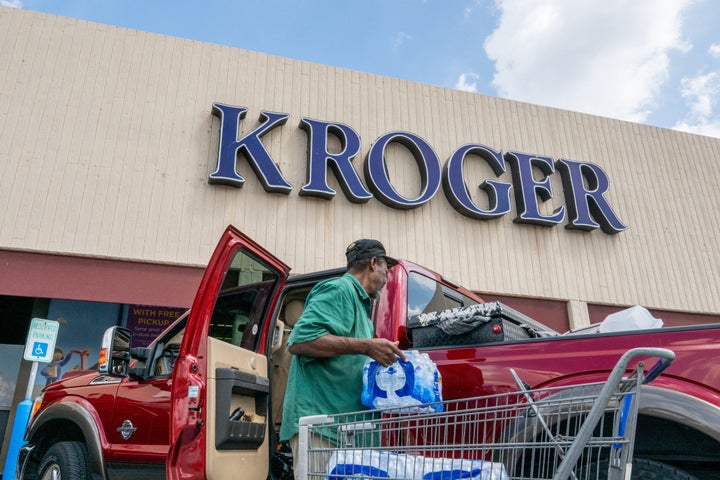 The union says it has filed a number of grievances alleging the payroll snafus have violated its collective bargaining agreement with the company. It has also filed unfair labor practice charges against Kroger at the National Labor Relations Board.
Matthew Handley, an attorney for the workers, said the lawsuit was filed because the problems "have persisted and haven't been adequately addressed."
"The risk of glitches really shouldn't fall on the employees," Handley said of the payroll system. "These aren't the highest-wage jobs out there, and if somebody misses a week of pay — never mind four weeks of pay — that can have some really devastating effects."
Kroger is one of the largest grocery conglomerates in the U.S. The company is trying to merge with another grocery heavyweight, Albertsons, but the proposal faces opposition from consumer groups and unions. Albertsons plans to pay investors a $4 billion dividend as part of the deal — a payout that unions say would leave the company in a poor position to weather a downturn.
The Federal Trade Commission is scrutinizing the deal. Kroger and Albertsons are expected to have to sell off certain stores in order to gain approval, a move that UFCW Local 400 warns will result in the loss of union jobs.


[ad_2]